Devotional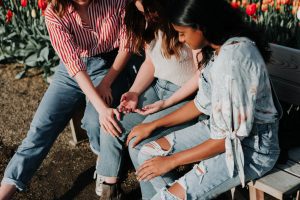 There is something so special about reading through the scriptures with a group of women. It not only builds your faith, but it fosters a sense of godly community--and sister, we all need that.  For that reason I'd like to personally invite you to join me each month as we build up a community of support, making devotional time a regular part of our day.
What is a devotional?
A devotional typically refers to a publication that provides a specific reading plan or focus for each day. They're typically  focused on a specific subject such as parenting, hope, depression, etc... pretty much anything you can think of. And they include scripture references to help provide some frame of reference or a word of encouragement for you to meditate on throughout the day.
Some like to start their day with devotional time, while others prefer to do it at night. There's really not a wrong way to do your devotional time, it's more about cultivating the routine of reading scripture so that you can better hear and know the voice of God. He is always speaking to us; there's always something He has to say and devotionals are a great way to "plug into the power source" if you will.
Join our Monthly devotional
I encourage you to just try it for yourself and see! Each month I'm hosting a monthly devotional which can be accessed online at any time during the month. I'll start a new one the first of each month, but you are welcome to join it at any time. No need to way until the 1st!  Invite your friends as we encourage each other and explore how to apply God's Word and Wisdom to our daily lives.
Looking forward to seeing you there!