I'm a clinical psychotherapist and Transformation Coach helping spiritual women overcome issues around:

trauma & sexual abuse

maternal mental health

emotional blocks to money, success, & freedom 
I believe all women hold the key to their own healing, and I'm dedicated to fast-tracking your healing process on all levels: in business, life, and love. 
Your wound holds the key to your breakthrough
I've dedicated my life to helping women because of what I've been through. I've overcome experiences of: 
military sexual trauma
addiction
intimate partner violence
postpartum depression & anxiety
I used to use these things as reasons to play small and stay hidden. But through applying my unique transformation process, I've gone on to manifest my dream life & gain massive success as as online spiritual entrepreneur.
But it's not about the struggle.  For me it's about what each experience gave me: the ability to turn any trauma story into pure alchemical gold.
And I teach the women I work with how to do the same.
Combining psychology & spirituality changes everything
I had a spiritual awakening in 2012 after a lifetime of compounding trauma. It was as if life pushed me so far that I had no other place to turn to but within.
So I dove into it whole-heartedly, deepening my connection to Divine Wisdom and completely opening the floodgates of suppressed spiritual gifts.
I now combine my grounding in psychology with my abilities to read energies and have never looked back.
I now show up daily as an ambassador of Divine Feminine, love, and inherent strength we all have as women.
Do you want to go deeper?
I have a number of ways to work together, all centered around themes of womb wellness and trauma healing.  So whether you're looking to conceive, are already pregnant, or you're postpartum...  Whether your womb has experienced sexual trauma, a traumatic birth story.... Whether you're not making consistent cash & you're ready to start receiving the REAL divine feminine way... girlfriend, I got you!
Check out the Work With Me page to learn more about my unique programs.  Or, if you prefer a quick chat you can click the button below to send me over an e-mail where we can hash it out or even set up a no-strings call.
I am self proclaimed meme queen.  It's a total thing and I will probably respond with a meme whenever it's reasonably possible to do so
I've been plant-based since high school. I stopped for a period when I joined the Marines but my body never agreed so it's been plant-based every since.
Oh yeah.. and about that.  I joined the US Marines straight out of high school. I wasn't ready to do college, so I went into the military and gained confidence, friendship, and tools to last a lifetime.
I met my husband online using OkCupid and we've been married since 2017. He is my best friend, and I literally manifested him into my life! I'll tell you that story later.
I am low-key a rapper.  But by rapper, I mean I make raps using the AutoRap app on my phone and then send them to my friends. And by send them to my friends I mean my mom is my #1 fan.
The Super Official Press Bio
ya know.. if you're into that sorta thing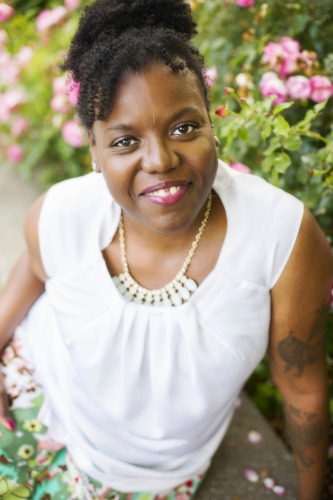 Jemese LaChel - MSW LCSW  is a trauma psychotherapist,  transformational coach & energy healer for spiritual women. She helps women who are ready to experience deep transformation of their trauma & emotional roadblocks. Jemese couples her grounding as a trained therapist, with her spiritual gifts as psychic & clairvoyant healer to provide women worldwide with deep transformation, soul clarity, and support. She's is best known for her work in sexual trauma healing and womb wellness. For more information contact her office at info@jemeselachel.com or visit her online at jemeselachel.com
instagram.com/jemeselachel
facebook.com/jemeselachel
youtube.com/c/jemeselachel
cosmicwombapothecary.com
jemeselachel.com